eMail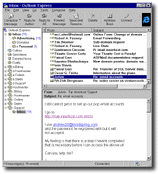 Every site is equipped with multiple POP3 / IMAP4 email accounts that can be configured from your browser on your personal computer. You have the ability of adding or removing mailboxes by simply accessing the web-base mailbox control panel. This gives you total control of all the e-mail sent to your web site.
IMAP4 is a new mailbox technology designed so that multiple users can access a single mailbox in an organized manner. It keeps track of messages which have been unread, deleted, etc. This is very useful when you need to know what messages have been attended to or not. Many companies, including , use this feature for large customer support mailboxes which more than one employee will be handling.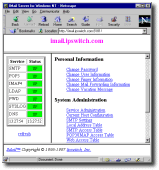 Our mail server includes a remote administration utility that makes it easy for you to manage your mail. You may log on to the mail server from a remote system as long as you have access to an HTML web browser. Using a web-based mailbox control panel, you can add, delete, or change users and aliases.
In addition, each user can change individual passwords, finger plans, and vacation messages via the Web. This allows you to setup forwarding, auto-responders, and other important e-mail options at any time.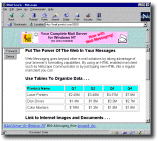 Multi-lingual Web-based Messaging is an added convenience for e-mail users — rather than replacing the function of a standard mail client, it enhances e-mail access by "Web enabling" our mail server. Web-based Messaging is especially helpful to users who are away from the office and need quick and easy access to their electronic mail.
Access your e-mail account from any browser connected to the World Wide Web
Supports multi-lingual including English, Chinese (Traditional & Simplified), Japanese, Korean, French, German, Dutch and Spanish
Conveniently read, send, delete, forward, reply to, and print e-mail directly from your browser
Enhance standard e-mail messages with HTML-based, Web-style text and graphics
Simply click to follow highlighted hyperlinks in e-mail messages
Users can change passwords, finger information, mail forwarding information, and vacation messages via the Web
System administrators can monitor system activity and manage user accounts remotely
Your default e-mail account can have an unlimited amount of e-mail addresses delivering to it, so that, in example, "anyname @ yourdomain.com" are aliases that deliver to a single POP3/IMAP4 email box which can be accessed with a single username and password.
If you have an e-mail address that you would like to continue using to receive all of your email, you can direct any of your POP3/IMAP4 accounts to forward your mail to that specific account. In this way, you may configure your e-mail at work to forward messages to your home e-mail address so that you will always have access to any new incoming messages.
Whenever a person sends an e-mail to your account, your e-mail box will automatically send a response message back to them of your choice. This message is usually in the format of "Thank you for viewing our site" or something along those lines. Every POP3/IMAP4 mailbox has this feature.
In some instances, it may be useful to host your own mail server. ETRN allows this to work even on dial up connections. Mail for your domain is queued on our mail server until your server dials up and transfers mail. ETRN is used to notify us when your server is connected to the Internet.
We can create a mailing list for you on our mail server. Mailing lists take an incoming mail message and broadcast it to every member of the list. Each list can contain a large number of members. You can control membership of the list by using simple email commands or using a web-based control panel.
This service provides an excellent means of reaching customers and potential customers on a regular basis, keeping them aware of new offerings and bringing them back to your site again and again.